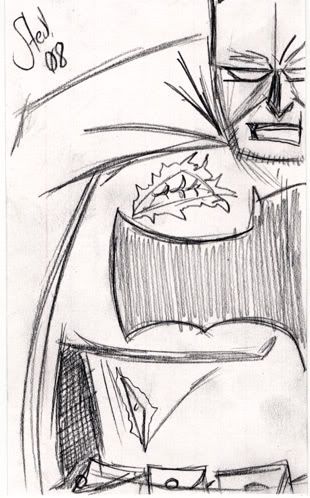 I'd like to take this opportunity to plug a couple websites. Both are by good friends.
The first is
Justin Stewart's Blogasm.
Justin is a talented designer (much of the Fanboy Radio show art) and a really funny writer. The Blogasm is his blog with sketches and news. He also has a webcomic called
PopStew
. J-Stew has one of the best designing minds around. Check it out. He is truly the pride of Kentucky.
The second website to check out is
Jeff Elden's Middle Child
. Jeff is a painter, comic artist/writer, and musician. Jeff has a really cool bizarre art style that reminds me of Sesame Street, if Big Bird sold crystal meth to Ernie. Besides being talented- he's one of the nicest guys you could ever meet. Jeff is the pride of St. Louis....ok..I'm gonna stop doing that.